Assalam..

Alhamdulillah da selamat sume exam.. Dalam beberapa hari exam ni beberapa insiden da jadik.. Yang agak lyn laa hehe

Exam kali ni aku takde komen.. Serius ak berharap agar kali ni xde bende yang tak elok jadi..harap lulus semua.. Ya Allah tolonglah..

Dalam kesibukan peperiksaan dapat pulak tahu yg teman ku kena dengue.. Risau nya aku bukan kepalang..

Bila disebut akan perihal manusia.. Rasa kasih itu xdpt dipisahkan.. Biar pon seorang doktor yg perlu menjaga sifat2 brofesional dgn patient nya..

Btol kata prof maniam " avoid treating ur family members or even good friends as u will be bias, will overtreated or undertreated them" like seriusly true!

Btw alhamdulillah everything went well lepas dia dpt kuar dr hosp.. I got nobody to talk to.. As i always be.. Keeping to myself.. Yes2 im learning to express more.. Hopefully blogin cud help me.

As exam finish ive to settle up few things on the theatre. Ive been selectd to be the director of one of this heater.. Preparing for a match at the end of february.. Its a match between all colleges in ukm.. Yeah ive been making myself busy with all the training stuff though i dont really knw how to conduct a theatre production.. I guess this is a good experience and opportunity to learn..

Then there was a weding of ibrahims sis.. At dewan perdana felda.. It was awesome as all the vips were there.. The bride was beutifull. The hall was big enough to accomodate about 900 people.. Fewhh.. And it was an awesome wedding.. With kopratasa performing ang singing few songs of my fav.. Really nice..wishing my wedding will be as nice as this one hihi gataii

So my parent hav been urging me asking me to be at home after exam which i cudnt.. I have to settle up things of my partner, go to wedding, theatre, lectures, hopefully they understand.. It has been a while since the last time i went back penang..

Will be back by this evening mayb after lectures.. Take care evryone..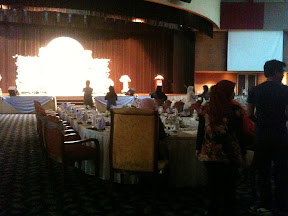 - BlogPress from my iPhone
Location:Jalan Midah 8b,Kuala Lumpur,Malaysia